Explained in 500 Characters
Crimopolis is a fast-paced strategy board game about bean-shooters, chippies and dough in a city where nothing counts but underground influence. Set in 1926, your aim is to become the most prestigious criminal. You recruit gangsters, explore the city, execute illicit jobs, ambush others and take over their assets. News reporters get in the way, but fortunes balance it.
For 2-5 players aged 12 and up. A game lasts for 15 to 25 minutes per player.
What Makes the Game Unique?
The game mechanics follow the theme so tightly that the few rules make sense to all types of players. While casual players learn the rules quickly and memorize them easily, hardcore players like the depth of strategy that opens up after a few rounds of the game.
Crimopolis has a one of a kind built-in framework that allows players to adjust the depth and complexity, so it suits all people with interest in light to heavy strategy games. The framework also allows to adjust the player count from 1 to 7. For more information see
Strategy
.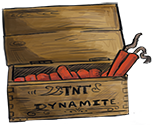 Explained in 120 Seconds
See
Rules
to watch the full
How to Play
video.
The video shows prototype components from September 2018. We are working on pre-production components and will replace this pitch video with an updated version later in 2019.